Mitel 5320 IP Phone
Enterprise-Class IP Phone
Part of the new-generation desktop family, the Mitel® 5320 IP Phone demonstrates Mitel's commitment to ease of use and enhanced user value, while delivering innovative features and applications. A full-feature enterprise-class telephone, the 5320 IP Phone provides a large graphics display with eight multi-function, programmable, self-labeling keys, three intuitive softkeys, ten telephony function hard keys, and a built-in HTML player for desktop applications.
This full duplex h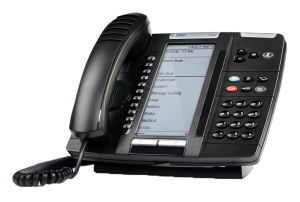 andsfree phone also supports hot desking and clustered hot desking, as well as resiliency. It is ideal for enterprise executives, managers, and employees, and can be used as an ACD agent, a supervisor phone, or a teleworker phone. It also supports many of the new features introduced on the Mitel Communications Director (MCD) Release 4.0, including Mitel Dynamic Extension capability. Administrators will appreciate the ability to easilymanage users through remote programming,eliminating the need for any paper labels andthereby reducing installation and ongoingoperational costs. The self-labeling display will always be up to date and will ensure that users get superb call handling, as well as user-programmable access to advanced voice communications and IP-based applications and services.
Unified Communications Support
When used with Mitel Unified Communicator® (UC) Express or Mitel Unified Communicator® (UC) Advanced 3.0 applications, the 5320 IP Phone becomes a powerful communications tool that helps customers streamline communications between people and organizations. This leads to improved productivity, enhanced customer service,reduced costs, and ultimately improved businessprocess integration.