Mitel 5330 IP Phone
The 5330 IP Phone is ideal for enterprise employees, and can be used as an ACD agent or supervisor, as well as a teleworker phone.
Next Generation Desktop Provides Built-In HTML Applications and Wideband Audio
The Mitel® 5330 I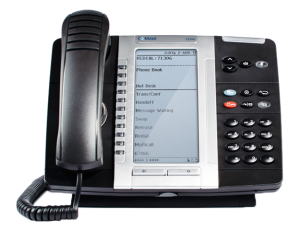 P Phone is a full-feature enterprise class telephone that provides userswith real-time access to applications and services such as web browsing, contact lists, callhistory logs and many customizable user settings. HTML applications can be developed torun without an external server – providing cost effective, intuitive customization for theuser's unique requirements. The 5330 IP Phone is ideal for enterprise employees, and can beused as an ACD agent or supervisor, as well as a teleworker phone.
Cost-effective, Intuitive HTML Applications Support
The Mitel 5330 IP Phone HTML Desktop Toolkitenables simple, intuitive development of customizedapplications that are easily integrated withtelephony functions. HTML applications developedusing the toolkit are able to run within the phonewithout requiring an external server, providingcost-effective implementation.
Multi-function Programmable Self-labeling Keys
Users can personally program and label the 24 multi-function keys on the phone from the Desktop User Tool, the 5300 Integrated Office Companion Application or directly through the Settings interface. Intuitive navigation keys allow users to easily move between multiple screens. Administrators will appreciate the ability to easily manage users though remote programming, eliminating the need for any paper labels, as well as reducing installation and ongoing operational costs.
Peripherals Support
The 5330 IP Phone can be easily enhanced with any of the following phone accessories:
Line Interface Module, which allows analog connectivity for emergency dialing
5310 IP Conference Unit, which provides instant superior quality voice conferencing
Cordless Accessories Module, which supports the Cordless Handset and Cordless Headset
Wireless LAN Stand, which provides standards-based wireless connectivity as either an access point or a client
Gigabit Ethernet Stand, which enables connectivity in a Gigabit Ethernet environment
Superior Acoustics with Wideband Audio
The 5300 Series IP phones have been designed toprovide superior sound quality. Wideband Audio is astandard feature on our 5330 IP Phone. It comesequipped with a wideband audio handset (7kHz), aswell as full duplex handsfree feature, making itacoustically superior to many IP phonesavailable today.
5330 IP Phone Features
The following is an overview of the features offered onthe 5330 IP Phone:
Large backlit graphics display (160 x 320) with Auto Dimming
24 Programmable, Multi-function, Self-labeling Keys, provided in three pages of eight keys each (for speed dialing, line appearances, feature access)
Wideband Audio Support – ships with a wideband handset (7kHz) standard
Peripherals and modules support: Line Interface Module, IP Conference Unit, Cordless Accessories Module, Wireless LAN Stand, Gigabit Ethernet Stand
HTML Desktop Toolkit included for Applications development
12 fixed function keys: Hold, Settings, Message, Speaker, Mute, Transfer / Conference, Redial, Cancel, Volume / Ringing / Contrast Up & Down, Previous Page, Next Page
Three context-sensitive softkeys for intuitive feature access
Handsfree speakerphone operation (full duplex)
Browser-based Desktop User Tool for easy user programming and key labeling
Voice mail access – large message waiting lamp
Icon Button Labeling for Global Markets
Language Support: English, French, German, Italian, Portuguese, Spanish, Dutch
Hearing-aid-compatible (HAC) handset (meets American Disabilities Act (ADA) requirements) and HAC compliance for magnetic coupling to approved HAC hearing aids
Secure voice communication enabled by encryption
Supports Teleworker, ACD and Hot Desking
Support for 5300 Integrated Office Companion and 5300 Intelligent Directory Applications