Mitel 8528 Digital Phone
Customized Functionality – Maximized Efficiency
The Mitel® 852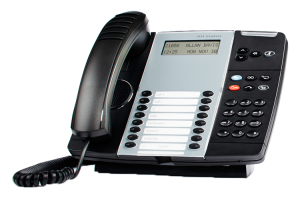 8 Telephone incorporates a two-line by 16-character display to provide users with the information they need to maximize their efficiency in a small or medium business. With 16 programmable keys, users can customize the functionality of this digital phone to maximize efficiency and ease-of-use. The 8528 Telephone features a built-in speaker and microphone for handsfree operation. This ergonomically designed phone features a large message waiting lamp that is visible from all angles, as well as 10 fixed function keys that allow one-touch operation for the most commonly used telephony functions or settings. The 8528 Telephone is designed to operate behind the Mitel 5000 Communications Platform (CP).
Unified Communications Support
When used with Mitel Unified Communicator® (UC) Express or Mitel Unified Communicator® (UC) Advanced applications, the 8528 Telephone becomes a powerful communications tool that helps customers streamline communications between people and organizations. This leads to improved productivity, enhanced customer service, reduced costs, and ultimately improved business process integration.
Scalable Functionality
The 8528 Telephone integrates with the Mitel Programmable Key Module (PKM) 12 and Mitel Programmable Key Module (PKM) 48 for easy addition of quick access function keys.
Features
Handsfree operation (half duplex)
16 programmable multi-function keys with LED indicators for features, personal speed calls
Expansion support for 12 and 48 button Programmable Key Modules
10 hard function keys: Mute, Speaker, Volume Up / Down, Directory, Feature, Redial,Hold, Transfer, Message
Two-line x 16-character alphanumeric Liquid Crystal Display (LCD)
Dedicated headset jack
Speed Calling (Station / System)
Intercom Calling
Emergency Calling
Call Hold (Place / Retrieve)
Call Transfer
Conference Calling
Call Waiting
Do Not Disturb
Call Forward (Manual / Automatic)
Voice mail notification – large message waiting lamp
Message handling (View / Reply)
Direct page / Group page
Last number redial
Reminder Messages
Hearing Aid Compatible handset
Wall mountable
Two-position, 35 degree tilting stand for better viewing angle
Store up to 10 personal speed dial numbers and associated names
Advanced Features
Adjust Volume Levels: Provides multiple levels of volume for speaker, ringers and handset
Select a Ring Tone
Enable Background Music
Enable Automatic Call Answer
Change the Display Language
Return Phone to Default Operation
Use Record-A-Call
Enable Paging
Place a Page Announcement
Program Feature Keys
Program Direct Station Select (DSS) Keys
Program Secondary Extension Keys
Use Accounting Codes
Enter a Remote Access Password
Remote Feature Acces