Mitel 8568 Digital Phone
Ultimate Technology – Professional Productivity
Compatible with the Mitel 5000 Communications Platform (CP), the new Mitel 8568 Telephone is perfect for users who require efficient call processing capabilities. This powerful digital telephone features a six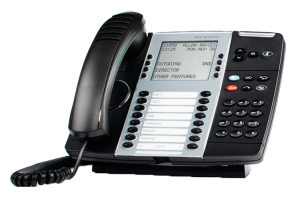 line x 16 character display with eight menu-driven softkeys, which intuitively guideusers through system features and capabilities. The ideal small or medium business phone, the 8568 Telephone has a large message waiting lamp in the upper right hand corner that is visible from all angles, 16 programmable keys with LED indication and 10 function keys that allowone-touch operation for the most commonly used telephony functions or settings. Equipped with both speakerphone capability and a dedicated headset jack, the 8568 Telephone is designed to enhance productivity.
Unified Communications Support
When used with Mitel Unified Communicator® (UC) Express or Mitel Unified Communicator® (UC) Advanced Release 3.0 applications, the 8568 Telephone becomes a powerful communications tool that helps customers streamline communications between people and organizations. This leads to improved productivity, enhanced customer service, reduced costs, and ultimately, improved business process integration.
Scalable Functionality
The 8568 Telephone integrates with the Mitel Programmable Key Module (PKM) 12 and Mitel Programmable Key Module (PKM) 48 for easy addition of quick access function keys.
Features
Six-line x 16-character alphanumeric display with eight, menu-driven, context-sensitive softkeys
16 programmable multi-function keys with LED indicators
10 hard function keys: Mute, Speaker, Volume Up / Down, Directory, Feature , Redial, Hold, Transfer, Message
Support for optional 12 and 48 button Programmable Key Modules
Handsfree operation (half-duplex)
Dedicated headset jack
Speed Calling (System / Station)
Intercom Calling
Emergency Calling
Call Hold (Place / Retrieve)
Call Transfer
Conference Calling
Call Waiting
Do Not Disturb
Call Forward (Manual / Automatic)
Voice mail notification – large message waiting lamp
Message handling (View / Reply)
Direct page / Group page
Group Listen
Last number redial
Reminder Messages
Call Logging (up to 20 entries)
Store up to 10 station (personal) Speed Dial numbers
Hearing Aid Compatible handset
Wall mountable
Two-position, 35 degree tilting stand for better viewing angle
12-button Alpha / Numeric Dial Pad
Easily customize Do-Not-Disturb (DND) messages such as "In a meeting until 2:00," "Leave a message" or "On Vacation Until"
Advanced Features
Adjust Volume Levels: Provides multiple levels of volume for speaker, ringer, handset and headset
Select a Ring Tone
Enable Background Music
Enable Automatic Call Answer
Change the Display Language
Return Phone to Default Operation
Use Record-A-Call
Enable Paging
Place a Page Announcement
Program Feature Buttons
Program Direct Station Select (DSS) Keys
Program Secondary Extension Keys
Use Accounting Codes
Enter a Remote Access Password
Remote Feature Access